KEVIN & GEYSA
SPAIN

|

CUBA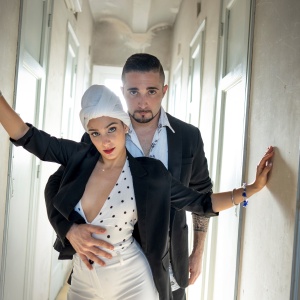 Salsa Cubana
Geysa Martínez (Havana-Cuba) 🇨🇺 Since she was little she knew that her vocation was dance! Thus beginning with 9 years in the world of entertainment, going through ballet, modern and Afro-contemporary dance, popular and traditional Cuban dances and different styles of dances and cultures that make her a dancer with many registers.
With professional training, graduated since 2009 at the Alejo Carpentier Havana Provincial School in the specialty of Classical Ballet and later in 2015 with the title of Dancer of Musical Shows at the Cuban Institute of Music and Ministry of Culture of Havana!
She has worked in important Cuban companies such as: Havana Queens Company, Teatro America Ballet, Rakatan Ballet, Cuban Television Ballet among others, he has also been part of national and international projects and festivals in countries such as Turkey, Germany, Spain, Hungary, Singapore, Switzerland and France as well as sharing the stage with prestigious Dancers and Masters
She currently resides in Barcelona where 2 years ago she opened her own dance school together with her partner and her dancer Kevin Cano called HaBarna Dance Studio. She continues to bring her art and passion for dance, she is still growing, training, teaching classes and showing her talent to the world!
Kevin Cano was born in Spain-Barcelona, ​​he is a lover and passionate about Cuban Salsa and all popular traditional styles and also of a religious nature in Cuba. He has been dancing for 11 years, learning from Great Cuban Masters and Artists. 2 years ago he opened his own dance school called HaBarna Dance Studio with his partner and Dancer Geysa Martínez🇨🇺
He previously worked for 5 years as a teacher at the Ritmos Barcelona academy. Throughout all his years dancing, he has worked in festivals, events and dance schools all over the world: Israel, Argentina, Germany, many cities in France, Switzerland, China, Guanzhou, Tianjin, Beijing, Italy, Hungary, Singapore, Reunion Island, Madrid, Spain are some of the countries where he has taken his art and knowledge!
Winner of 1st place in competitions such as Rueda Festival in Stuttgart, Columbia Competition in Guaguancó Festival for 2 occasions! He has shared the stage with great Masters and Artists of the Cuban Culture during all these years of his career! Director and Choreographer of the OBONEKUE DANCE COMPANY in Barcelona since 2018.
< All artists