IVAN & DIANA
Stockholm

|

SWEDEN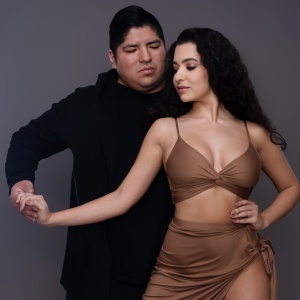 Bachata
Ivan has grown up with the Latin rhythms playing at home but started dancing salsa and took classes first in 2008 at Danscenter in Stockholm where he alternated salsa with breakdance and street. Ivan appreciated the salsa freedom and playfulness and the ability of dance to bring people together.
During a study year in London he danced salsa for SuperMario and when he returned to Stockholm he was a frequent guest on Stockholm's salsa chop.
During a trip to New York in the fall of 2011, bachatan stole Ivan's heart as he was captivated by the dancers' ability to play with the music and has since burned to become as good as he can be and spread the joy of bachata and dance to everyone he comes into contact with. He has been teachin in different parts of sweden and also abroad! He is one of the few cerfifyded Bachata Sensual instructor in sweden!

Diana started dancing when she was 3 years old. With many years of experience in various dance styles, including 10 years in ballet and reggaeton, bumping, burlesque, chacha, show dance, jazz, kizomba and more. she landed in the bachata world in 2014. Since childhood, salsa and merengue were also a very present part of her life. It is a place of self-expression, well-being and joy that characterized her life. Since then, she has had a passion for spreading the same joy and freedom she experiences in the dance to others.

A warm welcome to her classes!
< All artists